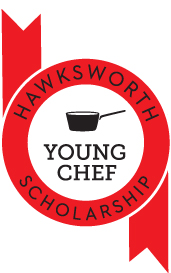 Chef Scott Jaeger joins Hawksworth Young Chef Scholarship judging panel 
Burnaby chef brings world-class competition experience to the scholarship finals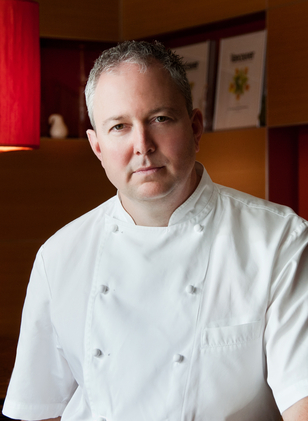 Vancouver, BC (October 21, 2013) – The team at
Hawksw
orth Young Chef Scholarship
is pleased to announce that Chef Scott Jaeger, president of The Chefs' Table Society of BC, will be part of the judging panel for the 27th October final of the Hawksworth Young Chef Scholarship competition.
Chef Jaeger will be joining Hawksworth Restaurant's Chef de Cuisine Kristian Eligh in the kitchen at Vancouver's Pacific Institute of Culinary Arts to judge the technical aspect of the competition. Chef David Hawksworth, Chef Mark McEwan, Chef Normand Laprise, Chef Anthony Walsh and Chef Vikram Vij will be tasting the finalists' dishes alongside award-winning food writer Jacob Richler.
The winning young chef stands to receive a $10,000 scholarship presented by The Chefs' Table Society of BC, a founding sponsor of the culinary competition, and a stage at an international restaurant. Canadian-born Chef Jaeger trained under Bruno Marti and has worked across the world in Australia, France, Switzerland and at the Waldorf Hotel in London. He co-owns Burnaby's award-winning The Pear Tree restaurant with his wife Stephanie, which opened in 1997 and has won him accolades including BC Chef's Association Chef of the Year, Vancouver Magazine's Chef of the Year, and the Georgia Straight's Chef of the Year. Chef Jaeger is Vice Conseilleur Culinaire of the esteemed Chaine des Rotisseurs, a member of the Canadian Culinary Federation and president of The Chef's Table Society of BC.
"We're thrilled to have Chef Scott Jaeger onboard," says Chef David Hawksworth. "His previous participation in Bocuse D'Or world chef championship as part of Team Canada and his current preparation to represent Canada in Dubai at the World Hospitality Championships means he'll be a great asset to the Hawksworth Young Chef Scholarship competition."
A private Q&A with the chefs will take place at the final – to win a ticket for the competition day and a chance to ask the chefs your question, and win a signed cookbook, ask your question via 
Facebook
 or tweet
@HawkScholarship
. On the evening of October 27th, from 5pm, the chef judges will be preparing a special gala fundraising dinner at Hawksworth Restaurant. Tickets cost $140, or $218 including wine pairings, and must be booked in advance by calling 604.673.7000.
 -30-
About Hawksworth Young Chef Scholarship:
A Canadian non-profit culinary foundation, the Hawksworth Young Chef Scholarship, was created to recognize and inspire young Canadian chefs, whilst promoting professionalism and culinary excellence within the hospitality industry. Through its national annual competition, the scholarship program provides a platform for talented young chefs to get a head start through recognition, mentorship and an unparalleled opportunity to work in the country's leading restaurants.
Hawksworth Young Chef Scholarship contact:
T: 778.945.3325
Brody Jones
Media contact: 
Hawksworth Communications
T: 604.609.6678
Annabel Hawksworth